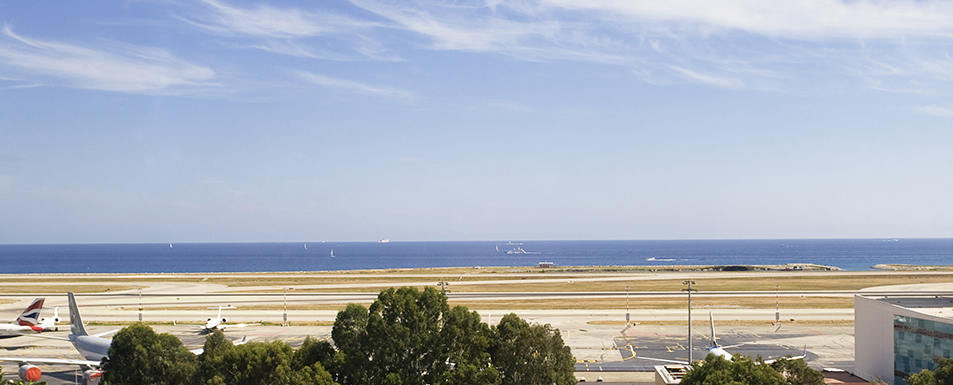 View hotel photos and video
Welcome
Novotel Nice Arenas Airport
from 94.00 EUR
Come in for a smooth landing at the Novotel Nice Arénas Aéroport hotel. You are sure to appreciate the hotel's convenient services such as a free shuttle between the hotel and the airport, free WiFi and buffet breakfast served from 5am. The 14 fully equipped meeting rooms and expertise of our advisors will help your business trips run smoothly. With family or friends, visit the greenhouses at Phoenix park, stroll along the Promenade des Anglais or explore the center of Nice. Soak up the sun at Novotel.
CHECK-IN:

12:00

CHECK-OUT:

12:00
(unless otherwise stated)
YOU WILL ENJOY...
Free shuttle between the airport and the hotel, free WiFi
French cuisine and contemporary decor
Just 20 minutes from Nice's old town
14 fully equipped, modular meeting rooms
Less than 5 minutes from the airport and the sea
See more
ACCESS MAP
At the airport

131 Rooms

4 accessible rooms

100% non-smoking hotel

Railway Station

Free.shuttle

Public outdoor parking 1 2
Private indoor parking 1

Electric car recharging units

WiFi at the hotel
WiFi in your room
WiFi access
Business Internet services
WIFI in the communal areas

Web Corner on a Mac



Babysitting on request 1
Children's library
Cartoon TV channels

Meetings

Live N Dream : the new bed by Novotel

Airport shuttle

Bouquet with TV Canal+ and Canalsat
TV Bouquet beIN Sports

participant<u>has</u>wdr

participant<u>has_wdr</u>part2
Discover your hotel with our team...
The Novotel Nice Arénas hotel is located 3 min from the A8 highway and the famous RN7 holiday highway, perfect for discovering the Côte d'Azur: Marineland in Antibes, Cannes and its Festival, Monaco and its Oceanographic Museum, as well as inland Nice.
Online Check-in / Fast Check-out
Nearby hotels
Rooms
Rooms
This room has the planet's future in mind. Join us in our PLANET 21 program and take simple steps for sustainable development: reused towels = 1 tree planted. Want the Novotel standard? Choose the Standard Room! Want more space? Choose the Superior Room! Want a VIP welcome? Choose the Executive Room with sea view!
"What if well-being lies in the minute details of your bedding? Lay your head on the "smart pillow" and discover comfort that completely conforms to your desires. Then add a duvet that is as warm as it is light, and envelop yourself in the pure enjoyment of eco-designed LIVE N DREAM comfort bedding. "
Standard Room
Choose comfort. Fitted with functional equipment: A/C, flat screen, Canal+ and Bein sports, free WIFI, tea and coffee making facilities, safe. Up to 2 people (including children).
Superior Room
Combine work and relaxation in complete serenity. Our Superior Room combines modern decor, ergonomics and high-tech facilities: free WIFI, 26" TV, air conditioning, minibar, individual safe, tea and coffee making facilities. Up to 2 adults and 2 children
Executive Room
Unique features designed especially for you, the Executive Room offers VIP treatment: sea views, Nespresso coffee, free minibar, docking station, wellness kit with bathrobe and slippers. For up to 2 adults and 2 children
At your disposal in the rooms

​
Room Features
Audible smoke alarms in rooms
Deadbolts and/or locks in rooms
Keycard-operated door locks
220/240 V AC
Air Conditioning
Air conditioning
Bathroom doors 32 inches wide
Connecting rooms available
Emergency exit map
Express check in
Express check out
Free in-room mineral water
Safe deposit box in room
Automatic temperature control
Automatic wake up call
Blackout curtains
Bouquet with TV Canal+ and Canalsat
Crib on request
Direct dial telephone (paying)
Flat screen TV
Hair dryer in bedroom
Manual temperature control
Operator wake up call
Satellite/cable colour TV
Telephone (paying)
TV Bouquet beIN Sports
WiFi in your room
Work desk in all rooms
Breakfast in bed
Coffee/tea making facilities
Coffee maker
Emergency info in rooms
Iron at reception
Minibar
RJ 11 outlet
Security peephole
WIFI in the communal areas
Security Features
24 hour security staff
Annual safety inspections
Audible smoke alarms in rooms
Auto. doors can be forced open
Complies w. Htl Safety Act 1990
Deadbolts and/or locks in rooms
Dry standpipe
Emerg. lighting at emerg. exits
Fire safety system
Keycard-operated door locks
Park with sand pit
Smoke extractors in car park
Smoke extractors in corridors
Smoke extractors in public areas
Video camera at bldg entrance
Video surveillance in hallways
Emergency electric generator
Exterior video suveillance
Visual alarms in public areas
Compliant national safety regs
Compliant with Accor safety stds
Emergency info in rooms
Meets Accor staff safety stds
Security peephole
Smoke alarm in public areas
Bathroom Features
Bathroom products
Bathtub
Hair dryer in bathroom
Shower
Toilets
Room Service
Breakfast in bed
Hot dishes
Cold snacks
Weekday hours : 06.00:23.00
Weekend hours : 06.00:23.00
Food and Beverage
FOOD AND BEVERAGE
From breakfast to lunch, dinner or a tasty little snack, Novotel provides balanced choices and a la carte service 24/7 at all its hotels. At Novotel, you can count on enjoying a relaxing meal in a friendly, stylish setting.
Our restaurant is the ideal solution for business meals. Don't hesitate to contact our sales team for any specific requests. Menu attached.
NOVOTEL CAFE
Type of cuisine : French
Dine however you want, whenever you want. Enjoy simple, tasty, healthy and balanced cuisine at any time and satisfy all your cravings. Take a moment to relax in the restaurant, bar or in your room. Free WIFI.
Menu
Learn more and book
Non smoking area

Air conditioning

Pets accepted
Opening hours
12H00 - 14H30 / 19H00 - 23H
OPENNING DAYS
Mon
Tue
Wed
Thu
Fri
Sat
Sun
Lunch
Dinner
BAR
This open-plan non-smoking space is ideal for relaxing in a warm and friendly environment. For a business meeting or a drink with friends, everything comes together for an enjoyable time. Take a break... Free WIFI and air conditioning.
Opening hours
05H00 - 0H00
OPENNING DAYS
Mon
Tue
Wed
Thu
Fri
Sat
Sun
Lunch
Dinner
Meetings & Events
Meetings & Events
We are attentive to your needs and provide you with a personalized offer. Take a look at our new break-time offerings: Detox, Regional, Lively, Sweet. Download our e-brochure for more information.
Facilities, high-tech equipment, advice... and much more. Novotel has considerable and extensive expertise in organising meetings. All our teams are responsive to your needs and strive to guarantee successful and professional meetings.
Meetings
The Novotel Nice Arenas Aéroport hotel offers 14 modular meeting rooms, all with natural light, with an area dedicated to meals.
Download the brochure
Take a look at the facilities in our rooms ​
Standard facilities available
High-speed Internet
WiFi at the hotel
WiFi in your room
Audio and video equipment
Copy/print service available
Flipchart
Meeting room
Screen
Self service business centre
Business Internet services
Day light
High-speed Internet in your room
High speed transmission line
Lectern
Office
Overhead projector
WiFi access
WIFI in the communal areas
Facilities available on request
Capacity up to 100 people
Learn more about the seating capacity of our rooms
NAME OF THE ROOM
Theatre style
U-shaped room
Board-
room
Classroom style
Banquet
Height
Surface area
250
0
90
150
180
2.86m
250m²
20
12
12
12
0
2.50m
40m²
100
40
50
60
80
2.86m
120m²
35
23
18
27
0
2.50m
55m²
40
23
18
27
0
2.50m
55m²
30
12
12
12
30
2.80m
40m²
40
23
18
27
0
2.50m
55m²
70
25
30
50
50
2.80m
90m²
10
7
8
0
0
2.50m
20m²
30
12
12
12
30
2.80m
40m²
25
12
12
12
0
2.80m
40m²
30
12
12
12
0
2.86m
50m²
30
12
12
12
30
2.80m
40m²
40
23
18
27
0
2.50m
55m²
Le Club Accorhotels Meeting Planner
Accor organises meetings and professional events and rewards you for your loyalty\! Join the Le Club Accorhotels Meeting Planner scheme and benefit from a quality service and simple programme tailored to your needs.
Become a member
Family Breaks
Family Breaks
Family rooms to spend cozy evenings together and wake up smiling in the morning. Safe play areas and balanced menus. With Family & Novotel, children are pampered guests and their parents are, quite simply, relaxed and happy.
"Family time is quality time. So, here at Novotel, your children are our important guests. Free accommodation and breakfast for 2 children under 16*"
Novotel's family spirit
Family rooms to spend cozy evenings together and wake up smiling in the morning. Safe play areas and balanced menus. With Family & Novotel, children are pampered guests and their parents are, quite simply, relaxed and happy.
A convivial family room for 2 adults + 2 children.
It's free for kids.
A balanced children's menu
Late check-out up to 5:00 pm on Sunday
*Up to 2 children under the age of 16 are accommodated for free in their parent's or grandparent's bedroom. Their buffet breakfasts taken with their parents or grandparents are also free. Subject to the availability of existing bedding in the room booked.
To be experienced with the family...
Phoenix Park
273 yds from our hotel, this park offers 17,297 acres of relaxation and is a feast for the eyes and nose (2500 plant species, one of the tallest greenhouses in Europe, play area for children, and more). Entry EUR 3, free for children under 12.
Marineland Antibes, 4 amusement parks
8 mi (13 km) from the hotel. Discover the underwater world at Marineland for a day full of thrills. Kid's Island for little adventurers and Aquasplash with pools and slides. Adventure Golf with 3 different courses.
Celebrate the summer!
This summer, feel the beat of the French Riviera festivals: Nice Jazz Festival, the Prom'Party (bus access from the hotel) and many other free events. What are you waiting for?
Make the most of our Family Services​
Babysitting on request (paying)
Indoor playground for children
Video game area
Crib on request
Baby's bathtub on request
Board games available
Cartoon TV channels
Children's library
It's free for kids.
A balanced children's menu
Late check-out up to 5:00 pm on Sunday
Music TV channels
Pet allowed ( 15.00 EUR per day)
Leisure & Activities
Leisure & Activities
Opposite Nice Côte d'Azur airport and 5 min from the A08 highway, enjoy an exceptional location on the Promenade des Anglais, near beaches (1.2 miles), Old Nice (5 miles), museums, Palais Nikaia (2.5 miles) and the Allianz Riviera stadium (3.8 miles).
(1) : On site
(2) : Close by
Sustainable Development
Sustainable Development
WITH PLANET 21, NOVOTEL AIMS TO PROVIDE A POSITIVE HOSPITALITY EXPERIENCE...
Novotel is part of AccorHotels, which has been committed to various causes for many years and has never stopped pushing boundaries. With the Planet 21 programme, the group has set ambitious goals for 2020, based on four strategic priorities: Working closely with employees, getting guests involved, innovating with partners, taking action in local communities; and on two key issues: sustainable food and buildings.
HOTEL CERTIFIED FOR ITS COMMITMENT:
List of actions undertaken by the hotel
Health
Eco-friendly cleaning products for cleaning rooms
Nature
Thanks to the towel reuse, we plant trees.
Faucets fitted with water flow regulators
Water efficient laundry to reduce water consumption for every wash
Recycling of batteries with sorting carried out at the hotel
Recycling of paper and cardboard with sorting in this hotel
Recycling of glass with sorting carried out at the hotel
Innovation
Eco-designed materials in the rooms
Certified sustainable paper for hotel printing purposes
Carbon
Energy-saving light bulbs in the reception areas
Energy-saving light bulbs in the rooms
Local
We are committed to protect children from sexual abuse
Local food products promoted in the restaurant
No endangered seafood to appear on our restaurant menus
Training for personnel on responsible actions toward the environment
Sustainable trade products offered in the hotel
Address & Access
Location & access
Novotel Nice Arenas Airport
455 Promenade des Anglais
NICE CEDEX 03
06299 NICE - FRANCE
Tel (+33)4/93212250 - Fax (+33)4/93216350
Email H0478@accor.com
GPS. N 43° 40' 1.85'' E 7° 12' 49.97''
Directions
Public outdoor parking (paying)
Private indoor parking (paying)
Go to the interactive map
Railway Station
NICE SAINT AUGUSTIN
Nice Ville
| | Line | Station |
| --- | --- | --- |
| BUS | 23 | Arénas |
| | 9 | Arénas |
| | 10 | Arénas |
Historic monument
ARÈNES DE CIMIEZ: 8.80 km
CATHÉDRALE RUSSE: 6.00 km
LE CHÂTEAU DE NICE: 7.00 km
Museums
ARTS ASIATIQUES: 0.20 km
CHAGALL: 7.00 km
MATISSE: 8.00 km
Special tourist area
PARC DU MERCANTOUR: 50.00 km
Cinema district
PATHÉ LINGOSTIÈRE: 7.50 km
Entertainment/theatre district
OPERA DE NICE: 7.00 km
THEATRE DE NICE: 7.00 km
Opera/symphony/concert hall
ACROPOLIS: 7.00 km
PALAIS NIKAIA: 2.00 km
Amusement park
ESPACE MARINELAND : 13.00 km
Stadium
ALLIANZ RIVIERA : 5.30 km
CHARLES EHRMANN STADIUM : 2.00 km
World Trade Center
ACROPOLIS CENTER : 8.00 km
Aquarium
MUSÉE À MONACO : 33.00 km
Botanical gardens
Business centre
Company
Convention centre
Exhibition centre
ACROPOLIS CENTER : 8.00 km
Other point of business interest
TECHNOPOLE OF SOPHIA ANTIPOLIS : 20.00 km